Why Fencing?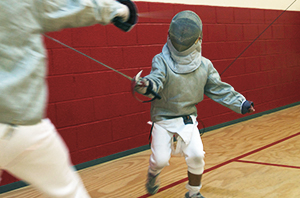 Fencing combines mental and physical agility in a fast game of swordplay that takes place on a 6-by-120-foot strip. It's about anticipating what your opponent will do, provoking them to move in ways you want them to, and, ultimately, out thinking them to score touches and win the competition. Brute strength and speed are not needed. Fencing has many benefits:
Fencing is a mental game that develops valuable life skills.
Fencing is a sport involving quick thinking, agility, poise and speed. It also develops discipline, respect, maturity and good sportsmanship; qualities that carry through to our everyday lives. Fencers learn to solve problems, cope with adversity and take what comes with grace. It is a tradition to salute before a fencing competition and shake hands afterwards.
Fencing can assist your child with admission to a prestigious college.
Most of the nation's top colleges have fencing programs and offer fencing scholarships. These include Stanford, Notre Dame, Duke, Penn State, Yale, Princeton and Harvard. Schools with NCAA programs are looking for fencing students and that enhances the chance your child can attend a top-tier school. Fencing could put them into a different, and smaller pool, of applicants.
Great Exercise
Fencing uses sudden and repetitive movements of the arms and legs, improving muscle tone and sharpening reflexes. It combines speed, agility and flexibility, working many muscle groups, the buttocks, stomach and thighs, in particular. A 150-pound person can burn 408 calories in one hour of fencing.
Safe Sport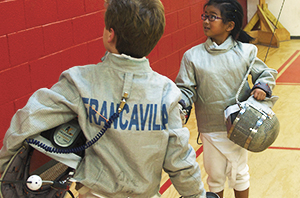 All fencers wear steel mesh masks, gloves, chest protectors and padded jackets, and the weapons they use do not have sharp edges. Although the goal is to touch opponents with weapons, injuries are rare. Fencing is considered safer than sports like football, basketball, soccer, baseball and even cheerleading.
Travel the World
Fencing tournaments are held locally, regionally, nationally and internationally. These tournaments give fencers the opportunity to visit places they might not otherwise see and to experience new cultures.
For Everyone
This is a sport families can do together. Fencers are of all different ages, sizes and body types. A key component of fencing is mental agility, so you don't have to be a world-class athlete to learn.

How Do I Bring Fencing To My School?
Over the last several years many after school sports programs have been eliminated due to budget cuts. The Scholastic Fencing League is the perfect way for your school to add a new sport for your students. Traditionally, fencing was offered only at private schools, but now you can introduce the Olympic sport of fencing without any cost to your school and no equipment to buy. Everything is handled by us, we just need a place indoors at your school to practice.

This is a great way to introduce students to this time-honored sport that is great for the mind, body and self-esteem for boys and girls. As many studies show, after school programs that build high confidence in students often translate to better grades, improved social and family interactions and healthy lifestyle choices. Fencing is a great way to help students learn self-control, patience and discipline in a fun and nurturing system led by USA Olympic fencer Tom Strzalkowski.