How to Bring Fencing to Your School
Over the last several years many after school sports programs have been eliminated due to budget cuts. The Scholastic Fencing League is the perfect way for your school to add a new sport for your students. Traditionally, fencing was offered only at private schools, but now you can introduce the Olympic sport of fencing without any cost to your school and no equipment to buy. Everything is handled by us, we just need a place indoors at your school to practice.

This is a great way to introduce students to this time-honored sport that is great for the mind, body and self-esteem for boys and girls. As many studies show, after school programs that build high confidence in students often translate to better grades, improved social and family interactions and healthy lifestyle choices. Fencing is a great way to help students learn self-control, patience and discipline in a fun and nurturing system led by USA Olympic fencer Tom Strzalkowski.

The Scholastic Fencing League is actively looking for new schools in the Denver Front Range area to host different fencing events and programs. Your school can be involved with the Scholastic Fencing League in several ways:


After School Program for Your Students
Fun Assembly Demonstrations
Other School Functions or Events
Pep Rallies and Fundraisers

Our after school fencing programs are very popular. The Scholastic Fencing League is in over 20 schools and we are adding more schools each semester. We'd love the opportunity to talk with your school and discuss the many benefits that our programs offer to administrators, teachers, parents and kids. It's fun, safe and we make it easy to get started. Give us a call at 720-334-3579 or fill out the form below for more information.


Get more information about bringing fencing to your school.
The Benefits of Fencing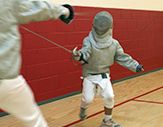 Great Exercise
Fencing improves muscle tone and sharpens reflexes. It combines speed, agility and flexibility, working many muscle groups, particularly the buttocks, stomach and thighs.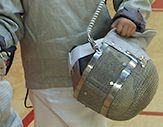 Safe Sport
All fencers wear steel mesh masks, gloves, chest protectors and padded jackets, and the weapons they use do not have sharp edges. Fencing is considered safer than most other sports.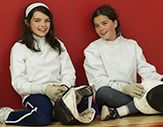 For Everyone
Fencers are of all different ages, sizes and body types. A key component of fencing is mental agility, so you don't have to be a world-class athlete to learn. This is a family sport.