Frequently Asked Questions
WHAT IS THE SCHOLASTIC FENCING LEAGUE?

Our mission is to introduce the Olympic sport of fencing to students, grades 2 thru 12, in a safe and fun environment, while promoting the values of character, honor, integrity, strategy and athleticism.

HOW DOES OUR PROGRAM WORK?

The Scholastic Fencing League offers instruction in the Olympic sport of fencing, including footwork, bladework, tactics and strategy by providing instructors for before/after-school programs which are (specially) trained in the Maestro Glon Method of Fencing.  Scholastic Fencing League offers 10-week sessions for parents enrolling their students in the program, and provide all necessary fencing equipment.

WHAT IS THE MAESTRO GLON METHOD OF FENCING?

Over the course of 40 plus years of international competitive and coaching experience, Maestro Glon has developed a system and curriculum for teaching fencing in a safe and fun environment, providing the highest level of instruction.  Using Maestro Glon's own curriculum, students will learn the history and traditions of fencing, as well as the values of character, honor, integrity, strategy, and athleticism through competition.

WHAT IS FENCING?

Fencing is the sport of swordplay that combines mental agility and physical prowess.  It is one of only four sports to be contested at every modern Olympic Games.

WHY FENCING?

Fencing is an excellent sport for individuals of all ages and all levels of physical ability.  Fencing promotes individual initiative and discipline, as well as sportsmanship and teamwork.  The physical and mental aspects of fencing promote physical health, mental stimulation and agility.  Fencing is a fun and engaging activity that can be done year-round in a variety of different venues.  Children, teenagers, and college students fence at local clubs, recreation centers, and at their schools.  Adults from their twenties and well into their seventies can be found in fencing clubs around the country.  All fencers have the opportunity to compete at home and abroad, or just to enjoy the sport they love.

WHAT ARE THE BENEFITS OF FENCING?

     • Promote self-confidence

     • Practice strategic thinking

     • Maintain a healthy body

     • Develop good sportsmanship and a sense of fair play

     • Instill self-discipline

     • Acquire a healthy competitive spirit

     • Can provide access to educational programs and scholarships

IS IT SAFE?

YES!  Modern fencing has rigorous safety standards for equipment and instruction protocols.  A study by sport injury professionals cited in the Clinical Journal of Sports Medicine in 2008 and Medicine and Science in Sports and Exercise 2008, found fencing to be the safest sport (as measured by days lost to training) among several dozen studied (including essentially all sports available in schools today.)  More importantly, fencing technique was shown to strengthen bones and muscles while minimizing stress on tissues, making fencing one of the safest and healthiest sports.  

HOW LONG IS THE PROGRAM?

Each session is designed as a 10-week curriculum.  The initial 10-week session covers the basics of the sport.  Each subsequent 10-week session increases skill levels and introduces advanced techniques.

WHAT'S INVOLVED?

Scholastic Fencing League instructors introduce students to the history of fencing, explain the three weapons involved in the sport (foil, epeé, and sabre), instruct in fencing techniques including footwork, conditioning, blade work, and discuss various defensive and offensive tactics.
 
HOW MUCH DOES IT COST?

Each 10-week session costs $155.  Parents who initially enroll their student(s) in more than one session receive a discount. ($15 per class plus $5 mandatory USAFencing Registration fee).

WHAT DOES MY CHILD NEED TO BRING?

The Scholastic Fencing League provides all necessary fencing equipment.  Students should wear comfortable clothing, preferably long warm-up style pants and t-shirt, along with tennis shoes.
   
DOES FENCING HELP IN COLLEGE?

YES!  Fencing can enhance college applications by demonstrating to admissions officers the student's discipline and commitment.  For those students who are more competitive, there are currently 42 schools with NCAA varsity fencing programs and an even greater number of competitive club programs.
Most Ivy League schools have NCAA fencing teams, including Penn State, Stanford, Notre Dame, Duke, etc.   (Full list at http://en.wikipedia.org/wiki/list_List_of_NCAA_Fencing_schools).  There are also many scholarships available for fencing, so it can not only help students get into college, it can also help pay for it!


The Benefits of Fencing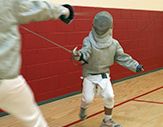 Great Exercise
Fencing improves muscle tone and sharpens reflexes. It combines speed, agility and flexibility, working many muscle groups, particularly the buttocks, stomach and thighs.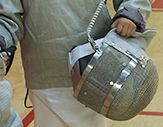 Safe Sport
All fencers wear steel mesh masks, gloves, chest protectors and padded jackets, and the weapons they use do not have sharp edges. Fencing is considered safer than most other sports.
For Everyone
Fencers are of all different ages, sizes and body types. A key component of fencing is mental agility, so you don't have to be a world-class athlete to learn. This is a family sport.